Rock
Join us for a jam packed week of laughter, fun and fellowship.
Grades 7-8
July 15 - 19, 2024

August 12 - 16, 2024
$400 + tax Per Camper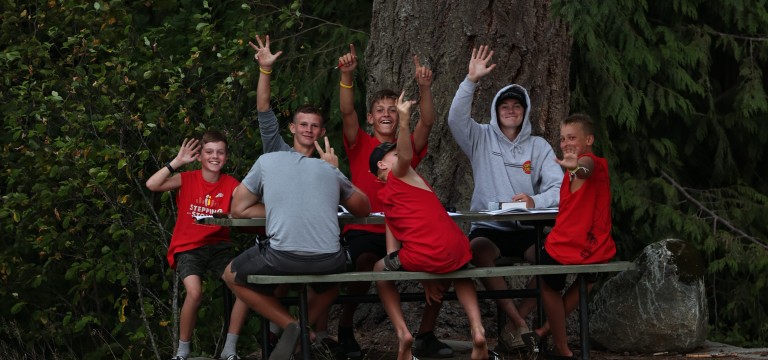 A week at camp
Campers will be put into cabin packs of up to 6 campers with 2 counsellors. They will spend the week together participating in all the day's activities and meals and will share a cabin at night. Campers and counsellors will be led through the week by our incredible staff.

Campers will leave with a collection of fun memories, new friendships and most importantly, an understanding that their daily troubles are healed through Jesus Christ.
"It comes up at camp time and time again. Whether you have been a camper for 5+ years, or it's your first time there. Whether you're a counsellor or staff member guiding the campers. You will ALWAYS learn something new, find a new perspective on your faith, or discover an aspect you never though of before. Everyone is there for each other, studying God's word in a beautiful part of His creation. Also, what's not to love about singing powerful and joyous praises to our Lord!?"
A day at camp
A typical day at camp includes:
- Chapel
- Cabin Pack Devotions
- Games and Activities
- Scrubby Dubbies
- Toothbrush parties
- Campfires
- 3 amazing meals and lots of snacks
- And so much more!

The week is spent in God's creation, bonding with fellow believers, growing closer to each other and being encouraged to know Christ more deeply.

If you have any questions about the week's schedule or about Stepping Stones Bible Camp, please reach out!
Learn more about our organization!